We Carry
• Bottles
• Jadite, Jadeite
• Depression Glass
• Ironstone
• Yellowware
• Transferware
• Flow Blue
• Crocks & Jugs
Bottles, Glassware & Crocks
Last Time Around Antiques carries a wide variety of bottles from medicines, bitters and inks to embossed or pryo milks, blob top soda and beer and more. We have quite a few pieces of vintage jadite (jadeite) and depression glass, along with various sized handcrafted pickling crocks. We do not sell reproduction glassware.
Our inventory is constantly changing so please stop in often, and follow us on Facebook where we regularly post new items.
We enjoy antiques and refinishing furniture and hope you'll stop by our shop soon!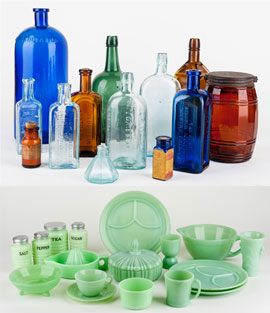 #258I 5 Piece Pitcher & Bowl Set $399
#732c Cobalt N.Y. Pharmacal Assoc. Bottle $69.00