See Photo
Galleries of
Furniture for
Sale for:
Chairs, Blanket Boxes & Other
 All of the chairs at Last Time Around Antiques have been checked for looseness and repaired if needed. We regularly have a variety of chairs. Blanket boxes are popular sellers. We occasionally have six board blanket boxes. There are two floors of antiques and we regularly have 125 (plus) pieces of furniture, mostly from the 1800s and 1900s.
Our inventory is constantly changing so please stop in often, and follow us on Facebook where we regularly post new items.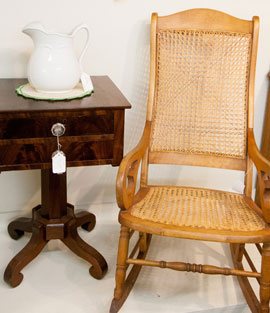 #269I Framed Print $79
Maple birdseye vanity. $249
Nice open bookcase $249
3 stack Macey bookcase $409
Nice oak bench $429
office chair $199
5 bowback chairs $349
curved glass china $369
oak 4 stack barrister bookcase $649